Its gone Joy Hruby – At eighty-something years young…  advocates ENAR for Osteo
Joy Hruby, OAM, actress, TV presenter, producer and author says… "My ENAR is super. The swelling in my feet has gone down, the pain from my osteo-arthitic knee pain is gone, the pain in my left shoulder that prevented me from sleeping on that side, is gone. I just treated my daughter's back pain and that's improved too."  Joy is the presenter and producer of her own program  "Joys World" screened weekly on TVS (Television Sydney) and interstate.

Gillette Nikolias – 68 years young, ex Medical Secretary, uses ENAR
"From my Xray and the CT scan it showed I had a lumbar spine. It was 2011 I was diagnosed so I was 63. I bought this ENAR in 2011. So it was two years I was in really bad pain. I used to just put my hand and rub it, because pain killer tablets they don't work on me. So until I discovered the ENAR, or found the ENAR. Then I was really pleased with it,that's why I call it, that's my treasure, the best thing I ever bought. (laughs)
So I started using the ENAR every night.  For the first 5 months, every night I used it. I used it around ten minutes on each area. Just my lumbar spine then my SI joint. Then into my thighs, because of the pressing on my Sciatic Nerves. And after the period of 5 months I only had to use it twice a week, like the night or sometimes in the afternoon, but I only use it only when I feel the pain."
Vicky Partridge – Director of Nursing Home reference 
"I was referred to ENAR by my employer as I have to have a knee replacement but I am choosing to wait and to manage the pain with alternative strategies. I have been using the ENAR machine with accessories /pads and the fine point wand probe because I also suffer from recurring bouts of sinusitis. I would whole heartedly endorse ENAR.
I am a Director of Nursing  so I had a day with Colleen at our work place to show it to our pain management/physio aide team.  We implemented indiviualised programmes for some of the residents and found that we met our pain free goals much sooner when we complemented analgesia with ENAR programme. We introduced it as a pain management strategy for the residents, and our Beautician/aromatherapist was also impressed by the ENAR Therapy machine and she has introduced this as one of her therapies in her practice, with great results.

The ENAR is marvellous, but so is the back up support from Colleen and Paul.  We see Colleen as she comes to the site to give the original training, but she is also available for refreshers and the whole team are very friendly on the the telephone.  I would recommend the ENAR Therapy."  Vicki Partridge. Director of Nursing, Yagoona Nusing Home, NSW 
ENAR Therapy is proving to be a great help for Seniors with pain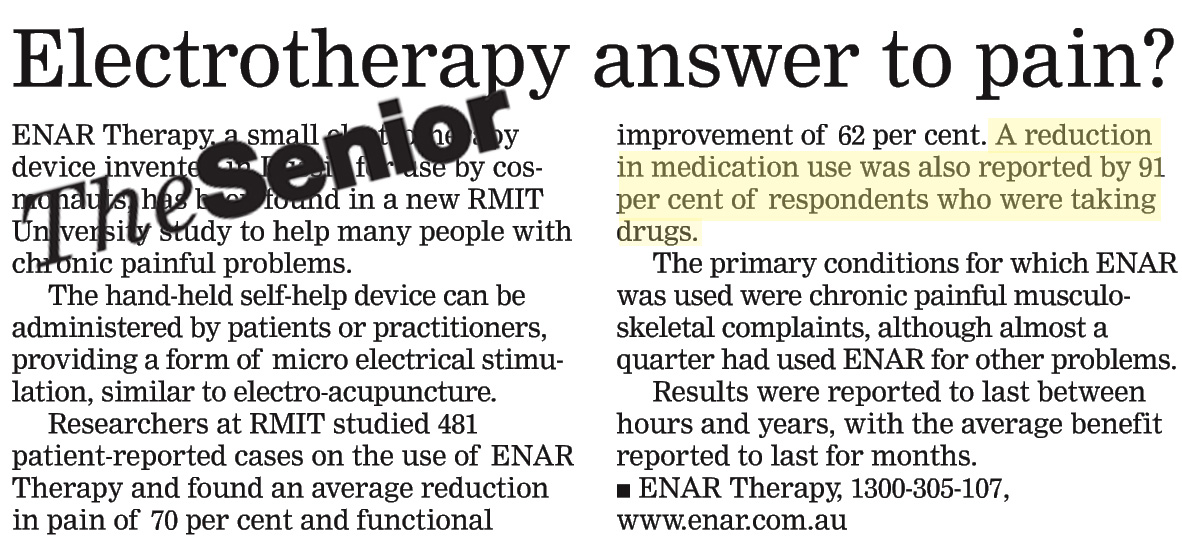 Recently The Australian Senior Magazine published this article covering the ENAR Therapy RMIT University research. That study reports highly significant Chronic Pain Relief, Functional Improvement, as well as, importantly, Medication Reduction. Also very high levels of ENAR device Customer/User/Patient Satisfaction were reported in the research, especially with elders, and a wide array of painful problems were also reportedly being treated.