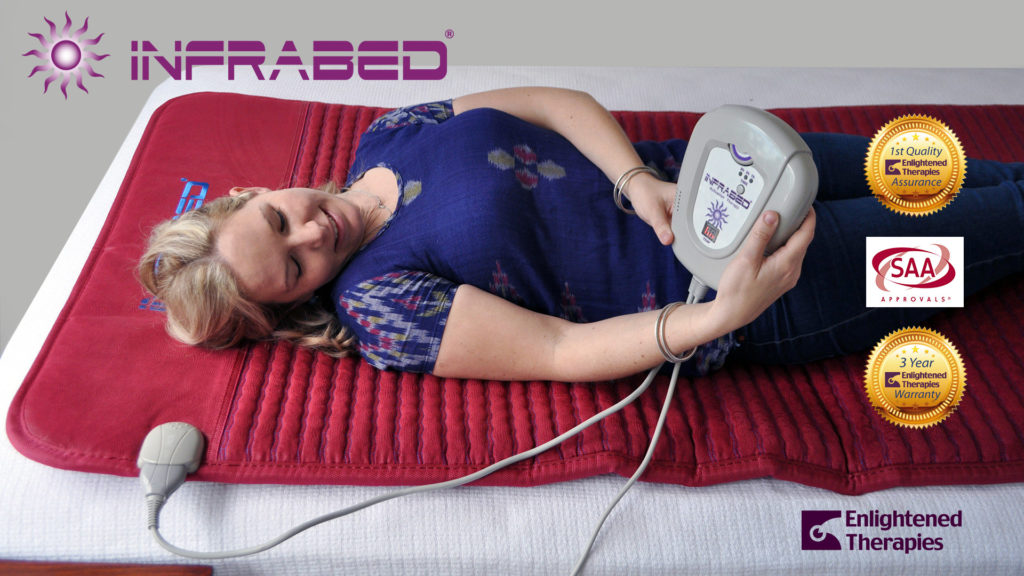 The new range of InfraBeds are radiant thermal energy therapy underlays or mats that combine two therapeutic components in synergy: Far – Infra -Red – Energy and Amethyst Crystal Energy delivering Core Activation Hyperthermia Therapy that deeply penetrates to support restoring and raising the core body temperature and blood circulation etc, for better health and healing. InfraBeds come in 4 sizes each with time and temperature control, and include quilted and zip-up covers.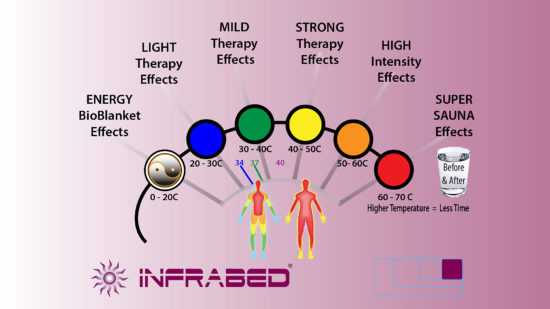 InfraBed Testimonials
InfraBeds are not yet ARTG listed devices, as this requires formal research university evidence, yet we are seeing anecdotal reports by users saying that an Infrabed has been helping them with…  Low Body Temperature, Poor Circulation and Metabolism, Chronic Aches, and Pains, Poor Joint Mobility, Pelvic Pain, Sciatica, Constipation, Insomnia, Enuresis (excess urination), Stress, Weight Loss, Detoxification, Chronic Fatigue, Post-Operation and Post-Accident Recovery as well as problems associated with Aging.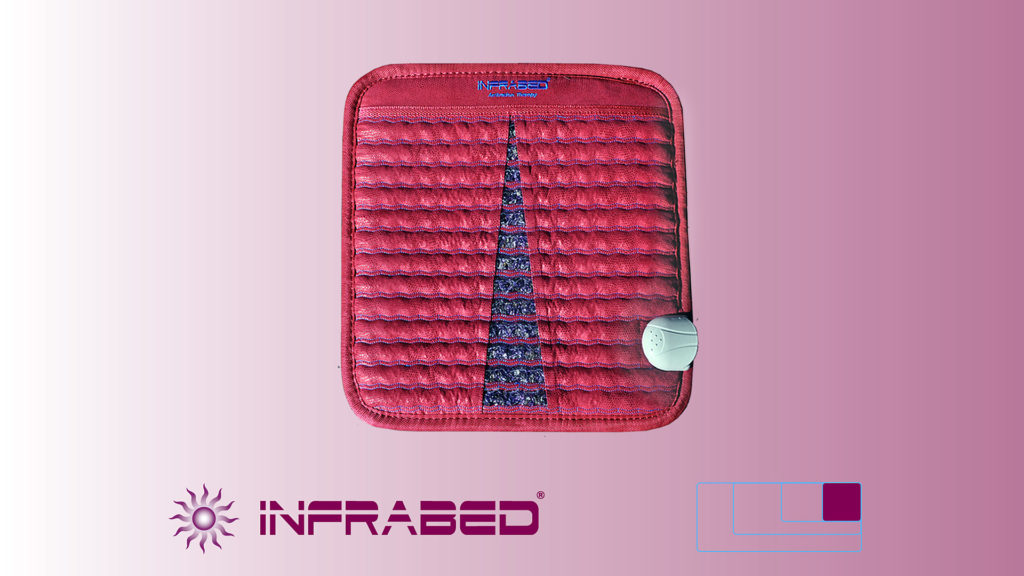 InfraBed Mini Pad Square
The InfraBed Mini-Pad is our new 45 cm square crystal Amethyst multi-layered thermal therapy mat/cushion. Your new light weight mini-pad boasts full power, time and temperature control, in a minimum sized package for maximum portability, versatility and usefulness. User feedback has been very positive from both therapists and home users.
The InfraBed Chair-Pod is our new 45 x 94 cm crystal Amethyst multi-layered thermal therapy folding chair mat and underlay. Your new light weight chair-pod boasts full-width Amethyst spread, full strength power controller, time and temperature control, in a medium size for easy portability, and for versatile uses as either a thermal-subtle therapy seat or flat pad or for folding round the body and limbs.
The InfraBed Medium Massage Bed (150 cm x 60 cm) crystal Amethyst multi-layered thermal therapy bed/underlay is ideal size for massage beds and personal home bed users.. Your new InfraBed Medium boasts full power, time and temperature control, in a medium sized bundle including quilted and zip-up covers that is very popular. Combined with the new BioBlanket in their own carry/storage bags together with a massage table you have everything required in an easily transportable bundle of thermal and bio-energetic core activation therapeutic tools.
The InfraBed King SingleBed or Large size is our premium therapy underlay, sporting a huge 194 cm x 80 cm size, and weighing in at over 20 Kg, The Largest IfraBed is beautifully constructed with Grade A crystal Amethyst in your multi-layered infrared thermal therapy mat. Your new biggest size InfraBed boasts full power though its heavy-duty, time (1 – 3 – 8 hour) and temperature (20C to 70C) controller. The largest people will find the King Single InfraBed ample in size and power and its thermal crystal and heating elements are spread all the way to the very bottom of the Large King Single 194 cm reach.