ANNOUNCING NEW BLUE ELASTICISED VELCRO EXTRA BELT INCLUDED
Endometriosis and Period Pain
A reported 90% of women in Australia experience varying degrees of strong period pain. Statistics for Endometriosis, a serious, chronic and very painful condition, reports a rate of about 10% of women. " The very sad news is endometriosis usually does not stop even with pregnancy or the change of life ".
The InfraBed infrared thermal therapy adjustable Endobelt is newly created to relieve pelvic and abdominal pain and reduce disability. It utilises the principle of far infrared thermal therapy derived by heating grade A Amethyst crystals to produce the ideal infrared emission profile. It is thought the 'ENDOBELT' belt will prove helpful to those who suffer with endometriosis. Why?
Far-Infra-Red-Energy hyper-thermal therapy, penetrates deeply, gently, subtly and often produces an anti-inflammatory effect. There is anecdotal feedback that the InfraBed MiniPad (45 cm square) may have been useful,  and so this new InfraBed easy-wear EndoBelt (150 x 25 cm), with infrared adjustable heat range (30c – 70c), and InfraBed pad ( 52.5 x 25 cm wide), is purposed to be useful also with period pain and endometriosis. A Survey of women diagnosed with Endometriosis who will use the new Endobelt for 60 days is being carried out in early 2020 and we look forward to their assessment reports.
Your InfraBed ENDOBELT is light weight, flexible, convenient, portable and also very versatile for painful disability over most parts of the body. No formal university research has yet been conducted or published on the usefulness of the InfraBed EndoBelt, so no anecdotal claims can be verified.
We can't offer you a cure, but we do Promise You Improvement.
If you would like to try the EndoBelt to see if it is a worthwhile device for you, your family or patients, we as the manufacturers would like to make you a personal promise of improvement. So. Purchase an InfraBed EndoBelt, ($440 incl GST, plus delivery $20) and use it for up to 40 days, and if you have not experienced significant improvement, return it in clean and good order, by trackable post, and you will receive a full refund. OR – Keep your EndoBelt and enjoy a full 3 year warranty, as well as multiple ongoing convenient opportunities to reduce pain and dysfunction, particularly around period times.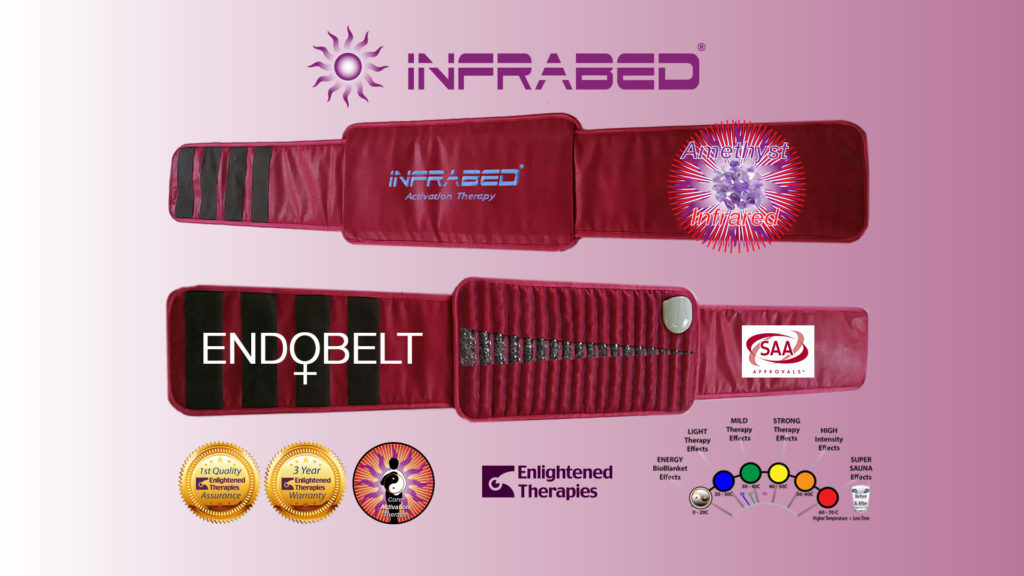 You will be able to readily self-adjust your temperature and adjust to wear your EndoBelt with placement, front, back and side, at those difficult and painful times of the month, without drugs.
NB Versatility – Whilst your EndoBelt is fully adjustable for pelvic, abdomen and waist you can also use it anywhere on the body you are experiencing painful disability. Its very light, flexible, durable, safe, and quality assured with our own manufacturers ET 3 year warranty.
InfraBed ENDO BELT Now Here  –  Pay just $440 incl GST  and get the new free Blue Elasticised Belt Ph 1300 305 107